Coming into last season, there was an immense amount of mystery surrounding what the Atlanta Hawks were going to become. Gone were the likes of Josh Smith, Joe Johnson, Mike Woodson, and all remnants of the last seven years. They were bringing in a rookie head coach, a few mid-level free agents, and overall this was the beginning of something new.
Most pundits and fans projected that longtime Spurs' assistant Mike Budenholzer would simply pour this roster into the mold of Gregg Popovich's system, and we would all see the second coming of San Antonio's culture. At first, one would assume that Budenholzer's time in San Antonio would lead to a mimicking of their system, but a closer look at the Popovich coaching tree reveals that it was far from a lock. Coaches like Mike Brown, Jacque Vaughn, Monty Williams, Brett Brown and others have come from the same place, but had a differing style of play. At the very least there were no copies of the system out there.
Of course, we've all seen how Budenholzer has built his style around his old stomping ground, and that led to countless comparisons to San Antonio. At first, seeing the ball zip all over the court was a new and welcoming sight for Philips Arena. Through the month of November and some of December last season, the Hawks were sitting third in the Eastern Conference. Having 30 assists in one game no longer brought shock when it came to this team, and it was clear that the culture had changed — and it had changed fast.
As we all know, Al Horford missed the rest of the season, the Hawks were decimated by injuries and ended up finishing under .500. They did make their seventh straight trip to the playoffs though, and pushed the top-seeded Indiana Pacers to the brink of elimination.
So with a healthy roster, what would this team do in the second year of being "Spurs East"?
Many Hawks writers from this site and others had high hopes. Thabo Sefolosha, Kent Bazemore, and Adreian Payne seemed like perfect fits on paper. The promising seven games in the playoffs set high hopes for the future and what the team could be when healthy.
After a 1-3 start to the season, it seemed as if this would be the same old story. A team with a great system, nice talent, and mild expectations would likely under perform and nab the fifth or sixth seed.
That wasn't the case.
Since sitting at 1-3, the Hawks have won 25 of their last 30 games, and are sitting atop the Eastern Conference at 26-8. At first, Atlanta had strung together an eight-game winning streak, and it was clear they were finding a rhythm. As with all Atlanta sports teams, fans and writers were hesitant to bring praise due to past experiences. As soon as fans are ready to put both feet in, the city usually displays some form of disappointment by crushing fans' hopes of having a true winner. Add that to a pretty easy schedule, and you have the recipe for cynicism.
The recipe for failure had been torn out of the book and was ready for use. Jeff Teague was injured, Al Horford was working on getting his legs back, and the schedule was about to get much tougher. Somehow, Dennis Schröder and the rest of the team banded together, and their winning ways continued.
This had to be a fluke, right? There's no way this team is for real, right?
Heading into a west coast road trip, that's exactly what the league was about to figure out. With a full roster and high expectations, there were no excuses for the Hawks if they laid an egg.
First came the Utah Jazz game back on January 2nd. On the road against an inferior opponent right after New Years Day seemed like a perfect trap-game. Not to mention Jazz head coach Quin Snyder likely knew how to defend this team better than anyone in the league. The Hawks jumped out to a massive double-digit lead, and although the Jazz came back, their resiliency was impressive. The real test would come the next night against one of the best teams in the West — the Portland Trail Blazers.
Atlanta controlled most of that game as well, and came away having all fans, writers, analysts, and doubters amazed.
This team is for real. John Schuhmann from NBA.com proved that they are the best team in the NBA when it comes to facing tough competition: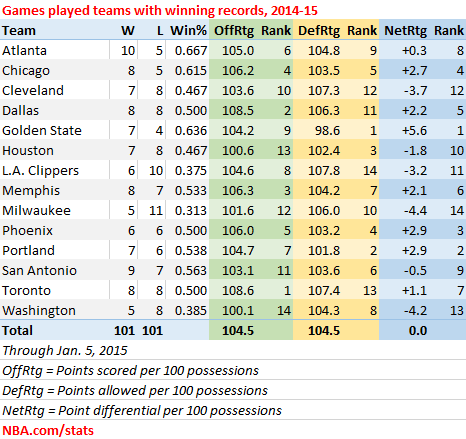 On Monday the power rankings came out for every national site. CBS had them 2nd, as well as SB Nation. The real shocker came when ESPN, NBC, and NBA.com had them as the best team in the NBA.
So now with the nation jumping on board, and Atlanta getting recognition, now was the time for them to slip up against the Clippers that night, right?
Wrong.
Though the game was a battle, the Hawks beat a good team on the road by nine points. Not only had they met expectations, they had smashed them to pieces.
Through 34 games, 26-8 is the Hawks' best start in history. Their seven-game road winning streak is third best in team history, and their 12-5 road start is best for them. To put it in perspective, ATL had 14 road wins through 82 games last season.
Right now, the Hawks have the 9th best offense and 6th best defense in the league (per 100 possessions). They are winning on both ends, and overall this has been a special season for the franchise. Mike Budenholzer was named NBA Coach of the Month, and Jeff Teague was just named Player of the Week as well.
So now that the Hawks have experienced success and backed it up, their rise to national relevance should be no surprise. But it is. No matter what this team has done, the national media has long ignored them, and even their own city has shown little interest in the team. It took a win in Los Angeles on Monday for me to even truly buy in. But they are for real, and the sky is the limit for the Hawks.
Viewership is up, attendance has risen, and general interest in this team is growing. Naturally, all this success has caused a lot of chatter from social media, and has even trickled down to players on opposing teams. Whether it be causal fans, die-hard fanatics, or NBA family members, they all say the same thing.
"Look what the Hawks are doing! They are just like the Spurs! The ball moving reminds me of the Spurs! They are the Spurs East!"
Even the game's best player, LeBron James, said, "We call them the San Antonio Spurs of the East." And also said Budenholzer's sets are "identical" to Popovich's. I hate to break it to LeBron and everyone else, but this team is not the Spurs. Mike Budenholzer is not Gregg Popovich, Al Horford is not Tim Duncan, and Jeff Teague is not Tony Parker. These are the Atlanta Hawks and every bit of praise and credit should go to them — not to San Antonio.
Naturally, when you model your team to be similar to what you had been a part of for almost two decades, comparisons will always be there. But it seems now all success for the Hawks has been met with some sort of mention to San Antonio.
Whether the team moves the ball a lot, or does a good job disguising screens, or even runs similar sets, they are not the Spurs. This team may go on and win the title, or they may fall and go back to their old ways. But one thing is for sure: these are the Atlanta Hawks– not the San Antonio Spurs — and they are a force to be reckoned with.